SAMPLE Newsletter # 6 - Fall 2012

Subscribe here!
---
| | |
| --- | --- |
| | Keyhole Falls, oil on linen, 22 x 16 inches |
Whew! What a speedy summer. It started out fast in early June with a solo show of paintings inspired by some lands targeted for major conservation efforts. I hope you had a chance to see it ("Paintings of the Conserved Maine Landscape" at Dowling Walsh Gallery). Some of the paintings are still on display for those who are interested. Please stop in the gallery and say "Hi" to Jacob Dowling if you are in Maine! He is a gracious host. You may have noticed the full-page ads of my paintings that the gallery placed in Maine Home + Design magazine this summer and Antiques and Fine Art on magazine stands now (page 95, Summer/Autumn issue).

The day after the opening reception, there was a special reception for The Nature Conservancy in Maine at the gallery. Spokesman Bruce Kidman informed us about some of their more important projects, and I gave a little talk, too. You can see a few minutes of my gallery talk on YouTube.

Weeks then months flew by, filled in part by a couple of new commissioned paintings. Ellen and I made a trip to Minnesota (ancestral home for me), making sure to stop at the new Minnesota Marine Art Museum in Winona. The museum holds a really amazing collection in a stunning building in a beautiful location on the banks of the Mississippi River. I met with the director, Andrew Maus, who gave me a tour. He showed us a work by van Gogh in the collection which experts believe is his first known oil painting. There was an astonishing number of works by many of the great artists who have painted navigable waters in the last couple centuries. Humbly, I will mention that the current temporary exhibition, "The Raging Red and the Mighty Mississippi", (closing soon) includes two oil paintings of mine. The Museum is well worth a visit.

While in Minneapolis, I visited Sally and Nicole at the Groveland Gallery and we planned a solo show of my work for June 2012. No giant snowstorms on opening night for this one, they promised. We'll see. I trust them far more than I trust the weather, that's for sure. They are regularly sunnier too.

"IN OTHER NEWS..." , two more U.S. Embassies are hosting exhibitions that include two larger works of mine, starting this fall and running through the next couple years: Georgetown, Guyana, and Amman, Jordan. I am very honored to once again have my work stand as a cultural ambassador for our country.

I would also like to mention that as of August, my paintings can be seen at Bonfoey Gallery in Cleveland. Bonfoey is the most established gallery in the region, and I am happy to be working with Marcia, Olga, Richard and the rest. Very friendly people.

For the entire month of September, I will be away and out of communication for the most part, on an artist residency at Blue Mountain Center in the middle of the Adirondack State Park, painting. Can't argue with that.

But as soon as I return, I will be gearing up for my long-promised Open Studio when I show off my still-newish studio and what happens inside. You are invited. The doors will be open on Saturday, October 15, noon-5pm, and Sunday, October 16, noon-5pm. If you need to know more details, like where to stay overnight if you are coming from a distance, or to let me know ahead of time so I can look forward to your presence, please contact me now or in early October. I will have limited access to email during my residency mentioned above throughout September.


Best wishes to you for a nicely paced autumn!

-Thomas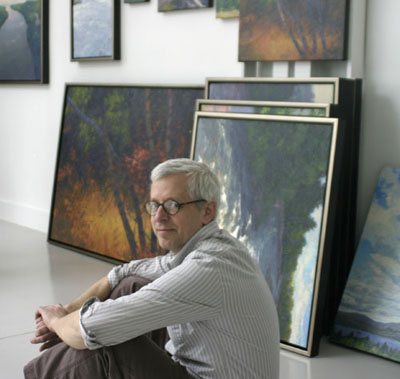 ---
Don't forget to visit these good folks to see my paintings:
Ann Korologos Gallery, Basalt, CO
Bonfoey Gallery, Cleveland, OH
Dowling Walsh Gallery, Rockland, ME
Gross McCleaf Gallery, Philadelphia, PA
Groveland Gallery, Minneapolis, MN
Winfield Gallery, in Carmel-by-the-Sea, CA

---