Breaking news:
A new painting escapes from studio to exhibition
while a new video is released into wild
Dear Subscriber:

I appreciate that your subscribing to my brief-as-I-can-make-them newsletters. It's a happy medium for my communiques since I rarely find time for Facebook or Instagram. Carrier pigeon, my other option, is a mess, but probably more reliable than those two.

In the interest of succinctness, and because it's too hot here to prefer anything that isn't short and sweet, this combines my announcement of "new paintings" (really just one painting) with a couple news flashes.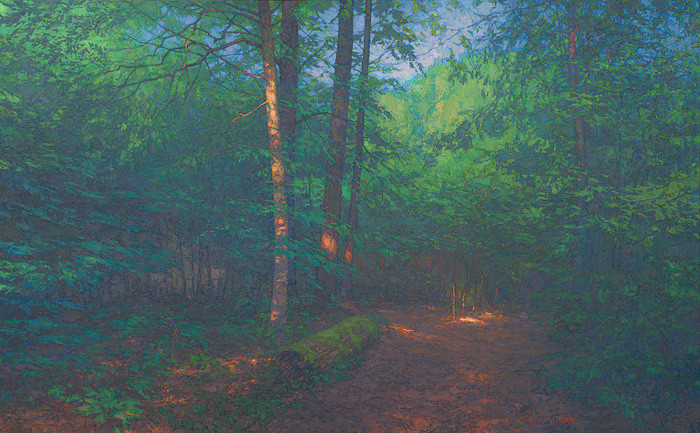 That one painting, above, is the first major piece to be released from my studio in too long. Ironwood Trail [46 x 74 inches, oil on linen] is titled after a trail in my local woodland, the Allegheny National Forest. [Click on image for link.] The extended news about this work is that you can see it in Ohio at the Butler Institute of American Art starting July 18 through September 5, in their annual national juried exhibition.

---
Other paintings are being worked on for my fall exhibition in Minneapolis at Groveland Gallery, October 23 through November 27, and I will let you know about those works when appropriate. For available paintings - inquire! paquette.studio@gmail.com

---
The other news is that I have just uploaded to my YouTube channel the U.S. State Department's very recent video in which they interviewed me about the forty works they have borrowed or bought over the last few decades to exhibit in nineteen embassies on five continents. [Click on image for link.]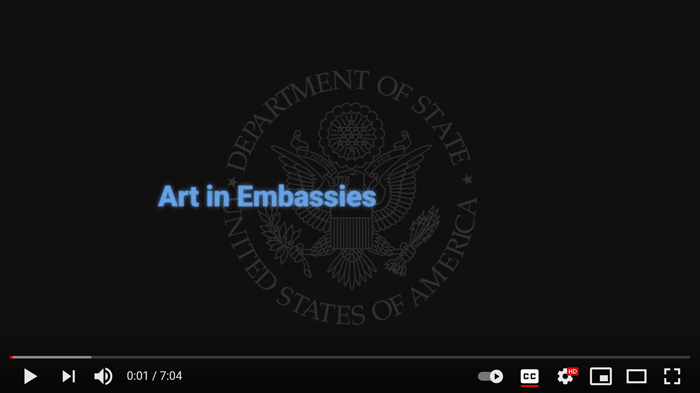 I am a strong supporter of the Art in Embassies program, especially since the time I heard Colin Powell, when he was Secretary of State, say that the art brought to embassies through this program is one of the best diplomatic tools ambassadors have. However that is, and for whatever it's worth, I feel honored to be called upon those several times to help how I can with international understanding and cooperation. At least I hope that's what my paintings are used for.

And yes, there are other good things developing that I can relay to you in time, but for now, I'll err on the side of fleeting and dulcet, as promised.
Hoping all is well in your world!