---
Dear Subscriber:

Thank you again for subscribing to these occasional newsletters. It's been a few months since my last one.

To varying degrees and on many fronts, this last year has been troubling for us all, and I hope you have been thriving through it. I count myself among the fortunate because what most people call "lock-down", artists call "studio-time". I have been working on paintings ranging from very small to very large, in preparation for my next exhibitions. If you are subscribed for "New Paintings" updates, you will get an email when some are online to see. Many will be released only just before exhibitions, but I'll post when I am able to release them. Reach out to me or my dealers (listed here) with any inquiries. We are happy to hear from you.
Earth Day
Today is Earth Day. As you might have guessed from seeing any of my paintings, this is a significant day for me personally, a reminder that we are part of the big network of nature. So, before Hallmark copyrights the meaning right out of the day, I wish to congratulate you for living on a remarkable planet. Frankly there are very few places I would rather live. Honestly can't think of even one other.

Museum Acquisitions
I am very pleased to note that since my last newsletter, the following museums acquired new paintings for their permanent collections: The Brinton Museum (Wyoming), Wildling Museum of Art (California), St Bonaventure University Permanent Art Collection (New York), and Susquehanna National Heritage Area (Pennsylvania). Many thanks to them!

Exhibitions here, now, soon, and farther off
Starting May 5 though 29, Gross McCleaf Gallery in Philadelphia is displaying a mini-exhibition of my tiny oil paintings, where a dozen paintings will fit on one modestly sized wall. Below is a non-pro photo of some of those paintings arranged on an old sheet of cardboard on my studio floor before they were sent off a couple weeks ago. I encourage you to see them at the gallery where they will be presented with at bit more dignity, but I wanted to convey their relative scale and framing to you in this newsletter.

You can see them individually on this page, without frames and possibly far larger than life on your screen. Still the best bet for seeing them is at the gallery in person if you can.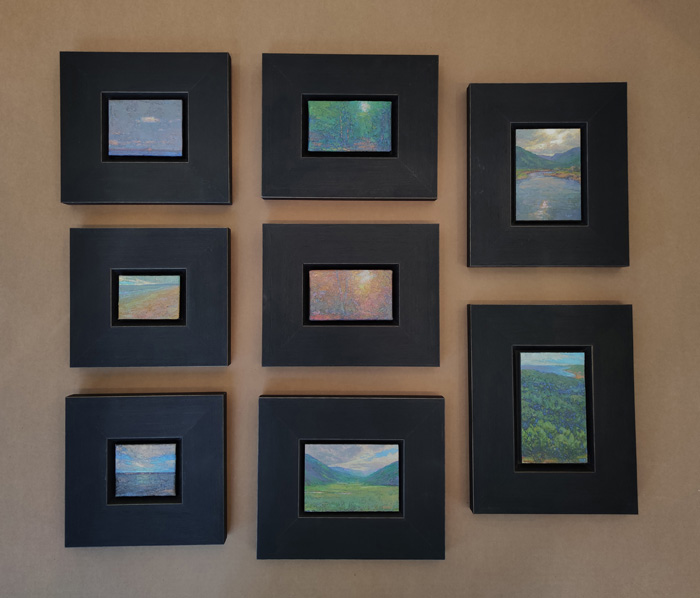 Besides this group of tiny paintings (typically about 4 inches across) and others in Philadelphia, a group of larger works are in progress for my exhibition at Groveland Gallery in Minneapolis this fall (opening October 23). Pin this to your calendar if you are nearby!

Currently, Fishing Reverie, a painting from my traveling Mississippi River exhibition, is on display at the Erie Art Museum in a juried exhibition that runs through June.

And you can also see my paintings now at Winfield Gallery in Carmel-by-the-Sea, California; Meibohm Fine Arts in East Aurora, New York; and at T. H. Brennen Fine Art in Scottsdale, Arizona.
Links to those galleries here.
I hope our paths physically cross again before long, despite that idea sounding like wishful thinking while Covid is still breaking records. I look forward to hearing from you, whenever that may be.


Be well.