Dear Subscriber:

First of all, I hope you made the most of the historic palindromic (reads same backward or forward) day earlier this month, on 02-02-2020. If not, you can celebrate the next one in just 101 years, on 12-12-2121. The next - and absolute final one - is a bit more than 1010 years from now, on 03-03-3030. Unless your name is Methuselah, you shouldn't need to RSVP for that.
Fortunately, things are moving much faster than that here.

My next solo exhibition:
From the Surface: Paintings by Thomas Paquette
at James K. Schmidt Gallery, Principia College, Elsah, Illinois.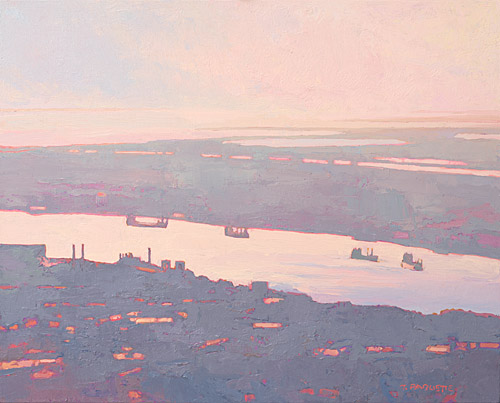 Morning Traffic, New Orleans, 24 x 30 inches, oil on linen, 2017
It opens Monday, February 24, and there is a reception on February 25, 5-6:30 pm, followed by a talk that same evening at 8 pm. The talk will end the same night with any luck, but the exhibition continues through March 28.

This show consists of 42 paintings, many from the Mississippi River, from large scale to 3x4-inch oils. I will also be showing, for the first time, some of the abstract works created with paint that didn't make it to my landscape canvases. These works are born of the conservationist in me. I seem unable to reduce, so I reuse and recycle where it works. You can see these "re-conserved" works here.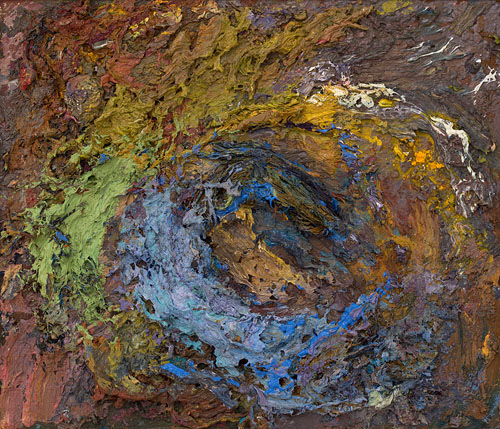 Concentrum, 8 x 9 inches, oil on masonite, 2019

New landscapes are coming to Minneapolis' Groveland Gallery for my solo show titled Near Horizons. It is a focused grouping of works, and they will be posted prior to that exhibition's opening, Saturday, April 25, from 2-5 pm (continues through May 30). More on this in the next newsletter.



Several of my larger landscapes will also be heading to EVOKE Contemporary in Santa Fe for an exhibition with a few other gallery artists, opening in late May 29, running through June 20. Stay tuned for more details.


I hope you can make it to one of these shows. I tried to make them conveniently located for you as I could.


Thank you for subscribing!

- Thomas