---
Opening reception, Philadelphia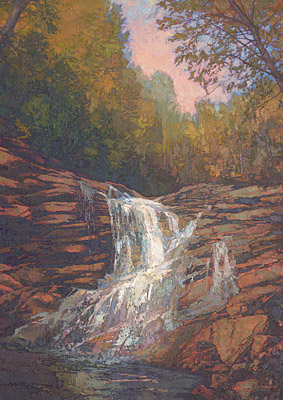 Onoko, oil on linen, 54 x 38 inches

Dear Subscriber,

Below is information forwarded from Gross McCleaf Gallery about my exhibition opening soon in Philadelphia.
I hope to see you at the opening reception on September 6 if you can make it!

An interesting note - the printed invitation card for the exhibition shows a major painting of Glen Onoko Falls, which Outdoors magazine listed as one of the 10 best waterfall hikes in the Northeast. Yesterday my friend, the amazing photographer Kevin Ebi, alerted me that because of its treacherousness, the trail to it is now closed to the public since May 1. But in late February I had the whole ice-encrusted place to myself, legally. I am reminded how we are all here in the nick of time, wherever we are, to appreciate what beauties appear before us. Enjoy them while you can!

-Thomas

Note: If you signed up for New Paintings updates, you will get the link to new paintings in this show that will join selected others from "America's River Re-Explored".
---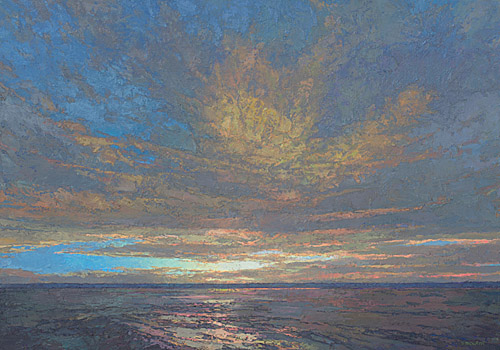 Above Atlantus, oil on linen, 38 x 54 inches
Thomas Paquette
Defined By Water

September 6-28, 2019
Opening Reception: Friday, September 6, 5-7 pm


Water plays a key role in every landscape.... Even deserts are keenly honed by the preciousness of that element. In this group of paintings however, water is a sculptor of land, creator of clouds, and the basis for our notions of flow. My working methods take cues from the principles of flow and chance found in natural processes of water, geology, and weather. At the same time, my paintings are images of those lands,...water-sculpted places from the Mississippi River to Cape May beaches and Scottish Highlands to Pennsylvania waterfalls.
- Thomas Paquette

It is particularly appropriate that Gross McCleaf opens its 2019 fall season with the grand landscape paintings of Thomas Paquette. Nearby, the Pennsylvania Academy of the Fine Arts Museum's exhibit, From the Schuylkill to the Hudson: Landscape from the Early Republic, celebrates "the important and underexplored tradition of landscape representation in Philadelphia" which directly contributed to the emergence of the popularly-known Hudson River School. Thomas Paquette's contemporary landscape paintings continue the legacy of the Hudson River explorer-artists, including Thomas Moran, Albert Bierstadt, Thomas Cole and Frederic Church. Paquette's projects have ranged from a body of work paired with the 50th anniversary of the Wilderness Act to a celebration of the length of the Mississippi River - a series of paintings from its source to the Gulf. The artist's recognition that our nation is a landscape sculpted by water-bounded by oceans and carved by rivers and glaciers - led to the paintings in Defined By Water.

Paquette's process involves visits to chosen sites, studying the location, and recording images through multiple sketches often in gouache. This information is taken back to the studio where work on the larger canvasses begins. Relying on the sketches and memories of his time spent en plein air, the artist uses his distinctive brushwork, textured layering of surfaces, and surprising sense of color to evoke not only the appearance, but also the mood or sense of a place. In the essay, "Prelude to an Odyssey", art historian Judith A. Curtis writes:

"Paquette ...recreate(s) a scene in his mind's eye and thus distill(s) the essential mood of his composition; sharing with the viewer what he saw himself and felt at that moment, and translating that personal perception to canvas."

Thomas Paquette was born in Minneapolis in 1958. He received his BFA from Bemidji State University, MN and his MFA from Southern Illinois University. He has been the recipient of many fellowships and honors, including artist residencies at the American Academy in Rome, the Aegean Arts and Cultural Exchange in Greece, and three U.S. national parks: Acadia, Yosemite, and the Rocky Mountain. He also received a three-year CAVA residency/fellowship from the National Foundation for Advancement in the Arts. His paintings have been selected to hang in nineteen U.S. embassies. The artist has shown widely in the United States, with ten solo museum exhibitions, including a recent traveling museum exhibition of paintings of the Mississippi River. This will be his fifth solo show with GMG.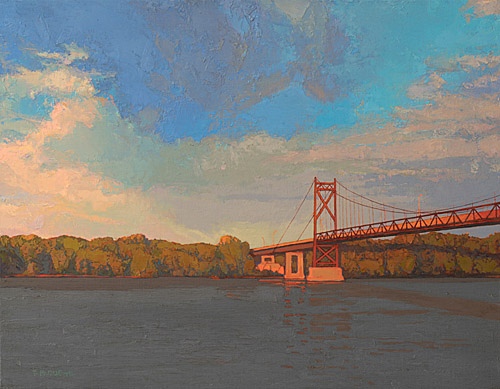 Waning Light on Clinton Bridge, oil on linen, 28 x 36 inches
Gross McCleaf Gallery
127 S. Sixteenth Street
Philadelphia, PA 19102

Tel: 215-665-8138
www.grossmccleaf.com
Gallery Hours: Tues.-Sat. 10 - 5