Dear Subscriber,

Happy Earth Day!

As ever, I appreciate your subscribing to my newsletter - thank you. Below are a few timely items, coincidentally all related to the Earth, mostly because I have rarely been elsewhere.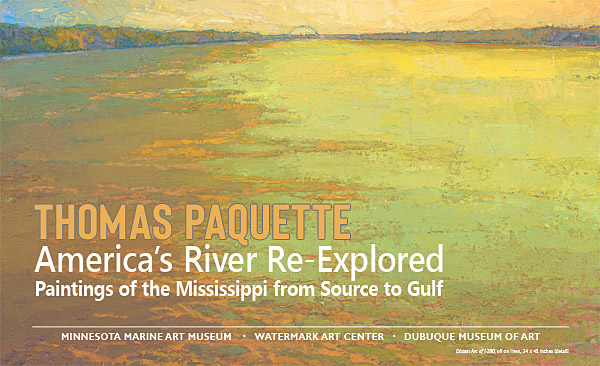 1. Opening this weekend (April 27) at its third and final venue, my solo exhibition of paintings from the Mississippi River, America's River Re-Explored, will be on display for three months at the Dubuque Museum of Art. [link] The reception is near the mid-point of its run, on Friday, June 7, 5-8 pm, and I will give an informal gallery talk the next day, Saturday, June 8, at 1pm. The exhibition continues through July 28.

Click here for lots more information (images, videos, catalogues)

Let me know if you are interested in these works.

---
2. My exhibition at the Dubuque Museum of Art was the focus of an article in the April edition of American Art Collector, "Life on the Mississippi" by Rochelle Belsito. You can read the article as a PDF linked here.

---

3. Earlier this month The New Yorker magazine published an impressive article by Pulitzer Prize winning writer Elizabeth Kolbert, titled "Louisiana's Disappearing Coast". It is topical for both Earth Day and this exhibition's theme, especially one of my paintings in particular (above). Read the article here on The New Yorker website.

Kolbert starts her article the same way I finished my exploration of the river: taking off in a chartered plane from New Orleans Lakefront Airport, to see what is to be seen of the delta, a hundred miles south. My jaw dropped when I saw what she also describes seeing – vast areas of land sinking below the Gulf waters – and I painted it in Palimpsest, shown above.

---

I hope you are able to see this exhibition in Dubuque before it breaks up into private collections and galleries. Wishing you a great season!

- Thomas