---
Dear Subscriber,

I appreciate your subscribing to my occasional newsletters - thank you.
Here are a few things to add to your calendar to start your new year right!

---
RSVP now for my off-site "Open Studio"

Save these dates: Saturday March 16 from noon to 5, and Sunday March 17 from noon to 4.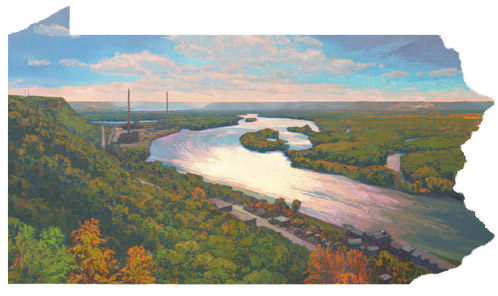 Mississippi River can be briefly seen in Warren, PA, in March
On those two days in March, I'm hosting an "open studio", though it won't be in my studio, and is RSVP. The paintings from America's River Re-Explored will be here in Warren, Pennsylvania, before heading to the exhibition's final venue, Dubuque Museum of Art, in April**. If you didn't or won't have a chance to see this show at the museums along the Mississippi River, this event may work for you. Since my studio isn't large enough to display all of the paintings, I will install them at our local art museum (Crary Art Gallery) while it is otherwise closed between exhibitions. Related new river paintings, not traveling to Dubuque, will also be displayed, and I will give a short presentation at 2pm on Saturday.

RSVP to my studio.

---
Before that happens, however...

A group exhibition titled Dusk to Dawn is opening on January 12 and running through February 16 at Meibohm Fine Arts in East Aurora, NY. It will include a few of my very recent paintings––nocturnes to be precise. Opening reception is 10-4 on January 12.

Four Winds Moon, 22 x 32 inches, oil on linen
---
And even before that...

I am pleased to announce that T.H. Brennen Fine Art, a principal gallery in the Scottsdale, AZ, art scene, is now showing my paintings. Please contact the gallery for more information.


I hope something here may be part of your new year, among many other wonderful things. Pencil it in. See you then.


My best wishes to you this year,


-Thomas