---
NATO and the Wildling Museum

Dear Subscriber:

The title of this newsletter might suggest something not intended, so I will start with this disclaimer: As far as I know, no plan yet exists to include the Wildling Museum of Art in the North Atlantic Treaty Organization, nor to exclude them if it comes to that.


Let's break down what we do know.


About NATO. I am proud to break the news that the State Department is purchasing one of my largest recent paintings, Cleft [Franconia Notch, NH], for permanent installation at the breathtaking new NATO Headquarters in Brussels, show below: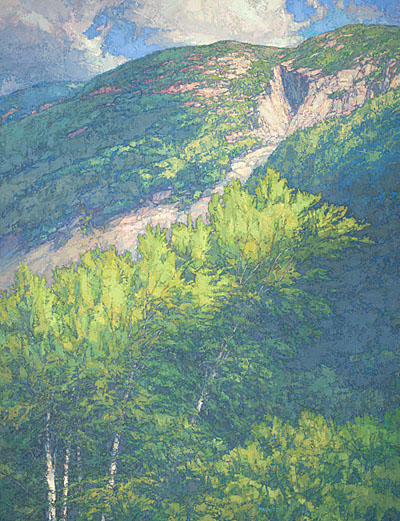 Cleft, [Franconia Notch, NH]
Permanent Collection of the US Embassy, NATO Brussels, Belgium, Art in Embassies, US Department of State
The 60 x 46 inch oil-on-linen painting was a late addition to my exhibition On Nature's Terms (paintings get done in their own sweet time, I am loathe to admit, and this one wasn't done in time for the catalogue or the first venue) and you may have seen it in that show at the Evansville Museum of Art, Science, and History, or the Quick Center for the Arts, or, in a separate showing, at the State Museum of Pennsylvania.


I have been a participant in the State Department's Art in Embassies Program since 1994, and have lent dozens of works to US Embassies on five continents. It is more than clear that NATO's new Paquette painting will go a very long way to move policy and negotiations toward enduring peace and cooperation, in my humble opinion. I am sure we can agree on this.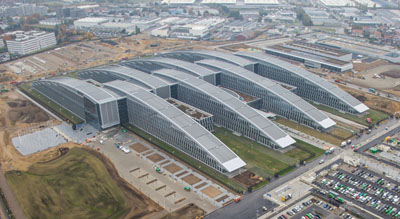 NATO Headquarters building, Brussels
To see more images of the new NATO Headquarters, click here.
---
And now about the Wildling. In other news, I am also proud that my gouache paintings were an inspiration for the current exhibition at the Wildling Museum in California titled The River's Journey (February 17 - July 9, 2018). The gouaches in my On Nature's Terms exhibition, shown at the Wildling in 2014, intrigued and inspired six Santa Barbara artists to try the medium themselves. These talented artists formed a group and have produced this new exhibition consisting almost entirely of gouaches focused on the region's precarious relationship with water.

A few of my recent gouaches from the Mississippi and elsewhere are included as special guests in their show and catalogue. You can find out more here:
http://www.wildlingmuseum.org/the-rivers-journey/

My next newsletter will unveil my new website, and with it, some of the paintings for my upcoming exhibition (collectors will be notified about this separately).


Thomas Paquette: America's River Re-Explored —
Paintings of the Mississippi from Source to Gulf

Minnesota Marine Art Museum, Winona, MN: April 20 - August 26, 2018
Watermark Art Center, Bemidji, MN: September 7 - October 31, 2018
Dubuque Museum of Art, Dubuque, IA: February - June, 2019


Best wishes for peace and cooperation in your own life!

-Thomas

To see past newsletters, check the archives.
To subscribe, click here.