---
Mississippi at the Museums;
Big Horn and Philadelphia shows

Dear Subscriber:

Did you think I had forgotten you? I haven't!

I apologize, though, as I've been extremely busy working to finish my Mississippi River paintings -- a project that has been consuming practically all my creative time for over two years and counting -- and most everything else has been put on hold.

Before announcing two imminent group exhibitions, I am reminded that I promised in the last newsletter to tell you in this newsletter about the venues and dates for my traveling museum solo exhibition.

So, without further ado, I am pleased to announce:

Thomas Paquette: America's River Re-Explored —
Paintings of the Mississippi from Source to Gulf

Minnesota Marine Art Museum, Winona, MN: April 20 - August 26, 2018
Watermark Art Center, Bemidji, MN: September 7 - October 31, 2018
Dubuque Museum of Art, Dubuque, IA: February - June, 2019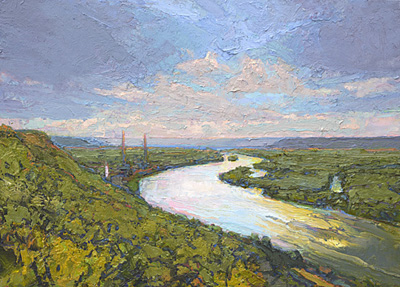 Study for Buena Vista [Mississippi River at Alma, WI], 10 x 14 inches
More details will follow later. It will probably be January when I start showing, one per week, the Mississippi works on my site's intro page. I WILL let you know in a newsletter before that happens. Hopefully those of you with AOL email addresses are receiving my newsletters now. Thank you for your patience. I will snail-mail info to long-time collectors around that time as well.

Now, about those soon-upcoming group shows!
I just sent paintings to Gross McCleaf Gallery in Philadelphia for a five-artist exhibition titled People, Places, Things, October 4 - 28. (Other artists are Perky Edgerton, Elizabeth Geiger, Kurt Moyer, and Scott Noel.)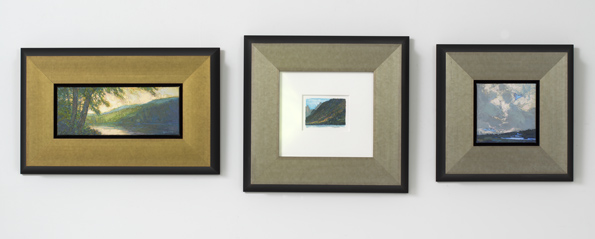 works at the Brinton Museum
The paintings shown above will be on view at the Brinton Museum in Wyoming, November 9 - December 17, in a group show called The Brinton 101. Click image to see larger image of the paintings.

Here's wishing you a happy Autumnal Equinox today -- May your nights be as long as your days. (This is of course wishful thinking, if your days are anything like mine.)


- Thomas