The National Park Service, You, and Me.

Given the weekend ahead, I know this should somehow be about Valentine's Day. But it's not. (That's an arrowhead, not a heart; green not red.) Rather, it's about one of my other favorite things, the National Park Service, which was created in 1916 to oversee some of the most breathtaking public lands in our country. This year I will help them celebrate their landmark 100th anniversary.

On February 24, my work will play a small part at a gala celebration that features a sneak preview of the new IMAX® movie release, National Parks Adventure, at the Science Museum of Minnesota in St Paul. You can find out about tickets here. I hope to see you there!

That night they will also announce my June-August 2016 exhibition, "America's River", at Groveland Gallery in Minneapolis. The paintings are all inspired by the 72-mile long Mississippi National River and Recreation Area, a national park that forms a corridor through the Twin Cities metropolitan area. I have been to many national parks, and was in fact Artist-in-Residence at Yosemite, Acadia, and Rocky Mountain National Parks, but this one caught me by surprise. It runs right through a densely populated area! I encourage you to be surprised by a national park near you this year.

.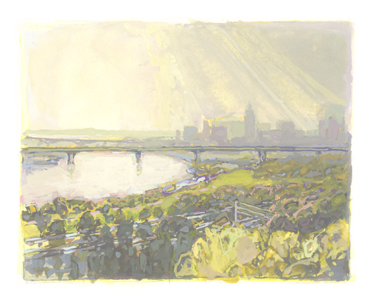 St Paul from the Mounds, 2.25 x 3.25 inches, gouache