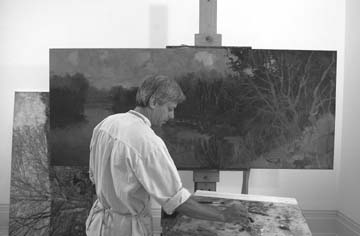 Thomas Paquette:
the world of naturalism - translating oils into landscapes on canvas.
---
At the age of 19, Thomas Paquette hitchhiked to California from the Midwest. He soon found himself at the foot of the spectacular Half Dome in Yosemite. He pulled out his sketch book and went to work, determined to capture the magnificent essence of the landscape in front of him.
It didn't happen.
Frustrated with what he had put down on paper, Paquette ripped up his sketch book and swore he was through with being an artist.
"I tried to quit," Paquette says, sipping orange juice and tonic in his studio some 24 years later. He smiles. "But it was too late."

Too late indeed.

Paquette, 43 now, recently set up shop in a front parlor converted into a studio in his Victorian home in Warren, Pa. He's long since reconciled with his need to paint. He has accepted it. Despite his misgivings at the foot of Half Dome, Paquette is an artist. A very good artist.
A self-avowed naturalist, Paquette specializes in landscapes. His paintings are reminiscent of such heavyweights as Monet, Caspar David Friedrich and Pissaro, complex with wonderful shades of color and stunning portrayal of light. His works have been displayed in dozens of exhibitions and collections world wide.
In short, he's the real deal. An artist in tune with nature and its many subtle nuances.

Paquette was born in Minneapolis. He received his formal training at Bemidji State University in Minnesota and Southern Illinois University at Edwardsville, where he earned a Masters of Fine Arts in Painting. But it was out in the real world where he honed his talent, hitchhiking across the country and hopping freight trains. According to Paquette, seeing the world is an artist's true training, not sitting in a classroom in a university.
"They don't teach you how to paint," Paquette says. "They just teach you how not to paint badly.
"I reading something Kurt Vonnegut said about writing. He said, 'school is probably the worst place to learn writing.' I knew that was true with painting, too."

Following his college education, Paquette embarked on his own journey, translating oils and watercolors into landscapes on canvas. His paintings are ever evolving, a never-ending process.
"The whole thing is an adventure," he says. "My paintings can go on for years and years. Sometimes I'm pleased enough to leave it. My nephew is a painter. He can just walk away from his paintings. I find that difficult. There's just something that just keeps bringing me back."

As for his work, Paquette does most of his painting in his studio. He does go out on location, but usually to make sketches or tiny gouache paintings, or underpaintings. The studio is where the real work goes down.
"There are hardcore painters who believe you need to be out in the field to paint, getting bit by mosquitoes," he says. "I don't think that way."
Whatever way he does think, it has translated into success. His works have been on display at U.S. embassies in Chile, Austria, Taiwan and Russia. He has participated in over 30 one-artist exhibitions across the United States, including the prestigious Fischbach Gallery in New York. His public commissions include a 32-foot painting for the state of Minnesota, paintings for the Federal Reserve Bank, along with works for the states of Montana and Maine (where he was a resident for 10 years prior to moving to Pennsylvania). Paquette's recent achievements include a major exhibit locally at the Crary Art Gallery in Warren, along with a one-artist show at the Bennington Center for the Arts in Bennington, Vermont.

The man is in demand. If further proof is required, Paquette will soon be working on paintings for the soon to be constructed Queen Mary II, which will be the largest passenger vessel ever.
Examining his success now, it's somewhat hard to believe Paquette nearly became a teacher straight out of graduate school.
Following his graduate studies, Paquette applied for several teaching jobs before hopping on a bicycle, bound for Nova Scotia. Before departing, he dropped off some paintings at a local gallery. When he returned, he discovered several had sold. He used the checks to rent studio space and has been painting for a living ever since.
Over the years, he had artist residencies in England, Wales, Greece and Italy, along with three national parks in the United States, including Yosemite, the site of the Half Dome debacle. He ended up in Maine, where he lived for 10 years, immersing himself in the state's rich tradition of landscape painting. He relocated to Warren in the last year with his wife, Ellen Putnam Paquette, a local musician and theater maven.

According to Paquette, he is quite pleased to be living in northwest Pennsylvania, where he has already completed several paintings using local subjects.
"The countryside is so beautiful. I see paintings everywhere. It's incredibly diverse. I just thought it would be a great place to move. It's a wonderful place to be creative."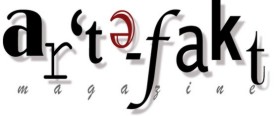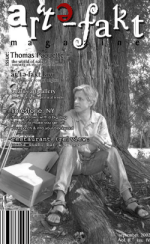 artefakt magazine
818 1/2 Elmwood Ave.
Buffalo, NY 14222
editor:
sales / promotions: