Delayed news items
Dear Subscriber:

It's been five months since my last newsletter. Instead of writing, I have been a willing hostage to daylight lately. Long midsummer light in particular means more hours to paint. On a typical day, after using all of the good painting light, my remaining energy goes to a new passion for clearing thorny rosa multiflora and maintaining trails in our woods. After that, there's just the short trail from the kitchen to the bedroom. Boring to read about, it's oddly fulfilling to do.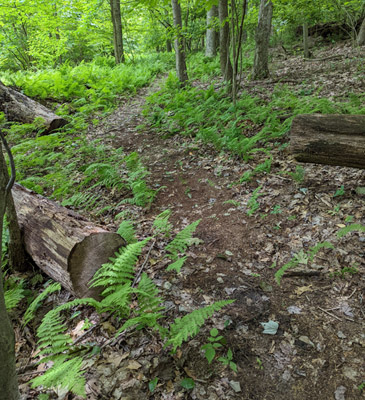 Our North Boundary trail
Tonight though, I need to type because I have itchy fingers. Unfortunately that's not a metaphor. Today I relocated a small spruce tree and went through some poison ivy. Now one or the other has got me scratching. I figure it'll be easier to write than to sleep. Hence, you can thank poison ivy for this newsletter.

Instead of starting with backlogged news, here's a FUTURE event on your calendar. Saturday, October 15, starting at 1pm is the reception for my next solo exhibition at Gross McCleaf Gallery in Philadelphia. The show itself will open about two weeks before that. This is what all that summer light is helping produce.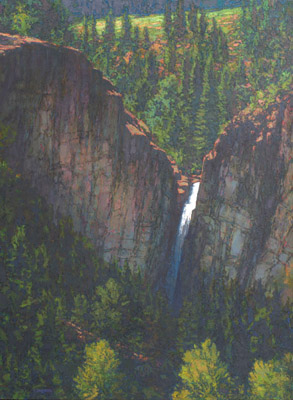 Wilderness Falls, 54 x 40, oil on linen
Moving to CURRENT events, my new painting, a large and thickly textured Wilderness Falls (shown here), is on display at The Butler Institute of American Art in Youngstown, OH, in their 86th National Midyear Exhibition. I have been in prior exhibitions there, most recently last year. This one runs through August 14, and it's a wonderful show to see.

And for PAST overdue announcements, I will mention two items here.

First, I am very pleased to announce that the Georgia Museum of Art recently acquired Reckoning after the Flood, oil on linen, 40 x 48 inches, a key work from my traveling museum exhibition about the Mississippi River (America's River Re-Explored). It joins two other smaller works in the collection. The GMoA hosted an exhibition of my work in 2000, my first of seven subsequent solo museum exhibitions around the country to date.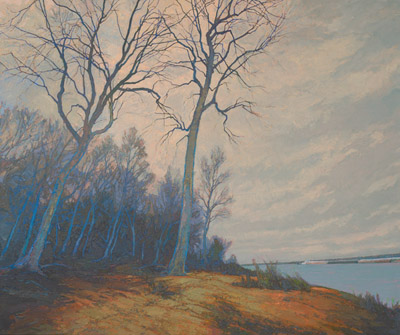 Reckoning After the Flood, 40 x 48, oil on linen
A second big backlogged news item is that I donated a series of large paintings to my undergraduate alma mater, Bemidji State University. They were produced when I was just starting my career during a three-year fellowship/residency in Miami from the National Foundation for Advancement in the Arts. These paintings had been on long-term loan to the university, and this gift established a new Permanent Art Collection in addition to the university's renowned ceramic and extensive print collections. The gift was also meant as an incentive to restore the BFA Painting program, abandoned not long after I earned my own BFA there. During the dedication ceremony, I was pleased that the university president was able to outline new progress toward that goal.

Here's the link to a short interview that aired on public radio in northern Minnesota last fall when the collection was inaugurated and the gift was made: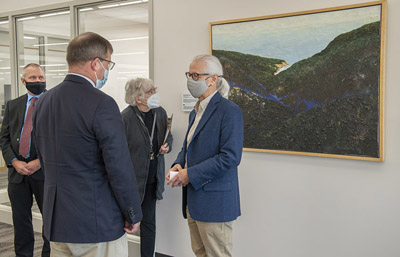 At Bemidji Dedication
https://www.kaxe.org/show/91-7-kaxe-90-5-kbxe-morning-show/2021-10-21/thomas-paquette-giving-back-to-inspire-the-future

If we can make a difference for the better, why not?


And speaking of "the better", my scratching fingers have been distracted long enough to allow sleep now. Thanks for keeping me company. And thank you for subscribing.

Please let me know how you are doing! I do like hearing from you. Just email me here: art@thomaspaquette.com.

- Thomas



ps. The downed tree in the top picture crossed what would become one of the trails on our property. After I hand-sawed and removed a section, I counted over three hundred extremely tight annual rings! At only about 18 inches across, I was surprised to see it was so old before it fell, however long ago that was. I cut another slab to bring home as a reminder of these natural bridges through time that surround us.